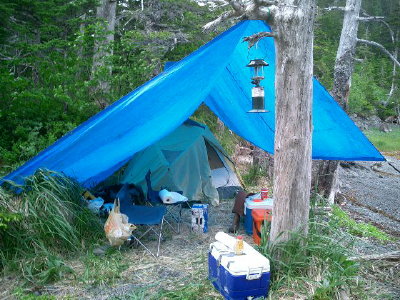 You've heard the saying, "third time is a charm," well, this was my third attempt at a spring black bear hunt for 2005. I got the time off work at the last minute. My wife and hunting partner, Shanna, had work obligations; this was the first time ever she had to miss a trip on the boat. About 5 days prior to departure, I called my friend Greg, described the hunt and asked him if he was interested. He said, "I'm IN!" He flew up from Texas and the hunt began.
It was the first week of June when we launched the boat from the port of Whittier to hunt in the Chugach National Forest. We had such a load we had to drop the kicker motor to get the boat on step. We had 35 gallons of gas in the on board tank in the floor of the boat and an extra 22 gallons in cans. On the first hunt of the year, we spent hours motoring around at top cruise speed to get to a recommended hot spot for hunting; more time was spent traveling than cruising slow and glassing for bears. The second trip camp was set up too far away from the area we planned to hunt. However, this time we set camp up right in the center of the area where we wanted to look for bears.
We set up camp at an abandoned cache of shrimp pots situated with a small cove on one side and open water on the other. When the wind came up, we could park the boat on the cove side. We adopted the bears' schedule and woke up just prior to first light. We cruised the shorelines until noon, then returned to camp to sleep and eat a meal until it was time to start cruising the shorelines again around 5:30 PM. By 11:00 we were back in camp for the night. This schedule proved to be very productive.