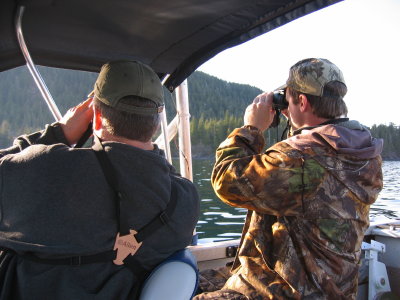 John & Craig glassing the shorelines for bears.
Monday, May 22, 2006
We cruised and glassed numerous bays, islands, coves and inlets. We cruised one bay where Craig was positive that the grassy area looked like a perfect place to get a bear. We got out of the boat and scouted around for "bear sign," like scat and grass that looked "mowed." Sure enough, there was definite bear activity in that area. Apparently, according to the surveyor's tape hanging on a tree: someone had already harvested a bear there. Craig was still excited about the place and several times said he wanted us to drop him off so he could sit and wait for a bear. We checked on some of the northern facing bays and they were still full of deep snow, with no grass showing yet.
Finally, we made the run back to the cabin for a nap and dinner before setting out on our evening hunt. We were all a bit disappointed that we hadn't seen any bears yet, not even a sow with cubs.