CRAIG'S BEAR
About 8:45PM, we cruised back into the first bay where we had got out of the boat and found bear sign everywhere. Craig had his binoculars to his eyes and exclaimed, "THERE'S A BEAR, PUT IT IN REVERSE!" Yea, right! Just throw the boat in reverse! We were 1/2 to 3/4 mile from the bear. The tension level went to extreme on the boat! John motored us to the far right side of the inlet, where, luckily, we were hidden behind an outcropping of rocks. We slowly motored to the end of the bay and Craig's bear. Craig was so freaked out, he put his bipod on backwards and had to take it off and try again. We came to the rock outcropping and went into action. John had me hold the boat off the rocks (so I wasn't able to watch the hunt) while he took the video camera and climbed onto the rocks with Craig. He was hoping to get the hunt on video. Craig at first said he didn't see the bear anymore. Then, all of the sudden the bear appeared, "out of nowhere'" according to him. I could tell he saw it and was getting ready to fire. I held the boat with my legs and my ears with my hands. BOOM! Craig fired. John started yelling, "Hit him again, hit him again, hit him, please hit him." But Craig never fired a follow up shot -- he felt confident that he'd hit killed the bear in one shot. They were having difficulty seeing the bear because it ran behind a log. And I couldn't see anything because I was well below the rocks holding the boat off. John & Craig started hooting and hollering! They were so excited! Craig got out his range finders and found that his shot was 231 yards!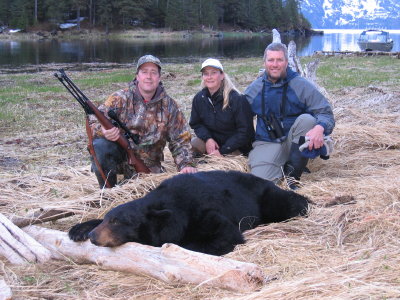 Craig's bear was a boar that measured in the field at 5' 6" from nose to base of the tail
We loaded back into the boat and continued motoring in. Almost a soon as the guys got on the land, they could see the bear lying there dead. We still approached it cautiously, just in case! When Craig verified the bear had expired, he started hollering again! He immediately checked to see if it was a boar or sow. Yeah, it was a boar. I was a bit disturbed seeing the poor dead creature. Once again, doubt crept up in my mind. How would I ever be able to pull the trigger and end a bear's life????? We took tons of photos and then set to the huge task of skinning and quartering the beast! The ebbing tide was a concern the entire time. If we didn't hurry, the tide would recede to the point that we wouldn't be able to motor out of the cove and we'd be spending the night there. While John was away working at resetting the anchors on the boat, Craig asked, "Do you mind holding this leg for me?" I replied, "Are you kidding???" Not my idea of fun…..John promised all I had to do was "pull the trigger" and that I didn't have to be involved in the skinning or quartering process. (Yea, right!) I did put on a pair of gloves and held the paw while Craig worked. I was glad when John was back to help. John & I took each of the quarters to the freshwater stream nearby and submerged them one at a time in the cold water to cool them. After a 5 minutes soak, I squeegee the excess water off, we sprayed them with a citric acid solution and then we rolled the game bag up over them. As time we on, I was able to think of the bear (quarters & hide) differently than as a soft, fuzzy creature eating his last supper. Maybe I'm starting to get de-sensitized! We got back to camp around 2:00AM. . Once back in the cabin, we replayed Craig's bear hunting video and reveled in the success. Craig had a Jagger Bomb (Jaggermeister and Red Bull - Yuck!) to celebrate his success! He insisted that John & I also have one. Craig had brought the ingredients along to make his "celebration drink" after he killed his bear. We finally got to sleep around 3:30AM.
TUESDAY, MAY 23, 2006
The alarm went off at 7:30AM. Not much sleep for the weary! We tried some of the northern facing bays again. We glasses for about 4 hours and didn't see any bears. We went to pull our shrimp pots - hoping for fresh shrimp for lunch! BINGO! Our pots did really well! Between the 5 pots, we nearly filled a 5 gallon bucket. Craig & I spent the 30 minute ride back to camp popping heads. Chow time! Craig chunked the inside bear loins into bite sized pieces and I sautéed them in olive oil, onions & garlic. I also sautéed a huge batch of shrimp in oil and garlic along with some crushed red pepper. Both were delicious!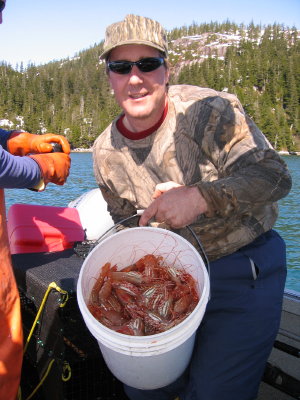 The bonus of hunting in Prince William Sound are the shrimp!