August 8, 2005 - Day 2
We had some excitement during the night. It started around 12:30 AM when I was awakened by a baby bear making bawling sounds. Sleeping a little lighter now, I woke again, this time to the sound of heavy footsteps in the gravel right outside our tent! I was thinking, "Here we go." I nudged Shanna awake and quietly told her we had a visitor. I sat up in the tent and yelled "HEY, HEY!" and clapped my hands. Suddenly, there was a burst of gravel flying, then splashing sounds as something large left our island. We then heard thumping sounds as it ran across the hard ground on the other side. I got up and went out of the tent with my revolver drawn while Shanna located the bear spray. Peace had returned to the night and I didn't hear anything else. Shanna noticed that as soon as I walked more than 10 feet from the tent she couldn't hear my steps anymore, so our visitor had been very close. Once back inside the tent, I realized how dry my mouth was; the whole event had been pretty scary. Shanna was actually back asleep before I was. I woke several more times during the night.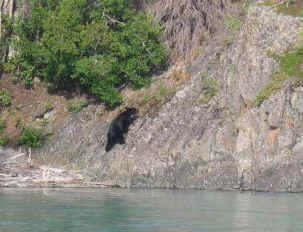 We were underway around 9:30 AM and started our long journey across the lake. Skilak Lake is known for developing some pretty large waves in the afternoons, so a morning start was necessary. Shanna immediately began spotting black bears along the south shore of Skilak Lake. We took lots of bear video. 3 ½ hours after leaving our camp and the mountains behind, we re-entered the Kenai River and the flat country. We started trout fishing upon entering the Kenai in the area we now know as "The Scallops;" almost immediately I had a small trout on.
We caught several more trout and some dolly varden. We decided to set up camp next to a very productive looking red salmon riverbank. The water was so clear you could just see them streaming past, 100's of reds. On shore, there were trails everywhere (bear trails). I even had to kick some bear scat off the bank into the river to clean up the camp. EVERY possible campsite we checked out had bear sign. I picked up a VERY bright chrome sockeye for dinner that still had some sea lice on it. We continued to fish the bank for quite some time with poor results, despite seeing so many fish. To top it off, I fell down and soaked the inside of my waders.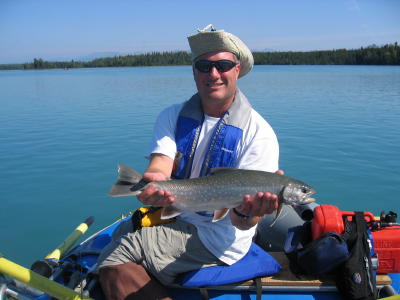 August 9, 2005 - Day 3
Of course our last night on the river couldn't be bear free. Around midnight we heard a boat pull up down the river bank about 100 yds away to fish for reds in the dark. They were close enough we could hear them talking. Soon I heard the unmistakable huffing sound of a bear! One guy said to the other, "did you see him?", "did you see the bear?" I heard the sound of them throwing their anchor in the boat and motoring away immediately after. Shanna then spent a while staring out the door of the tent after that. The night was peaceful after that until..........We awoke to the sounds of drift boats landing in our camp. A drift boat pulled up on either side of our raft and disgorged there passengers into our camp to pee. I couldn't believe it, they were walking 10 ft from our tent as we looked out the door way at them. The guides claimed there wasn't another place to let them out. Later, when we continued down river we found this to be bullshit. It was really incredible.