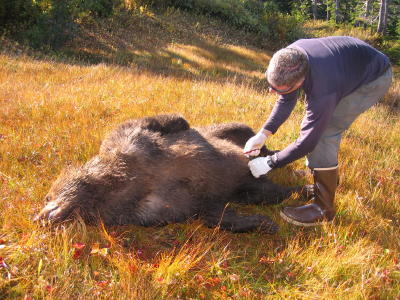 John skinning the bear, to turn it in to the state.
Once back at our boat, we had a few beers and relaxed for a while. About 45 minutes before sunset, we motored over to Kobi's boat where we met his dad (Mark, we think). We told him our story and he became very concerned for his son. We promised to help if Kobi didn't make it back to the beach before dark. Motoring away, we sure hoped our services would not be needed. About 15 minutes prior to sunset, we heard Kobi yelling from the beach. "Dad!!! Dad!!!" Soon his dad had the dinghy fired up and was headed to pick him up. Kobi had a Blacktail deer slung around his neck. We heard Kobi tell his dad on the beach, "I'll never do that again!" They loaded up in their little dinghy and made their way over to our boat. Unbelievable!! Kobi went up the mountain with nothing but jeans, his rifle and a sweatshirt. Not even a watch! He said he had to hike all the way to the snow line before he saw a buck.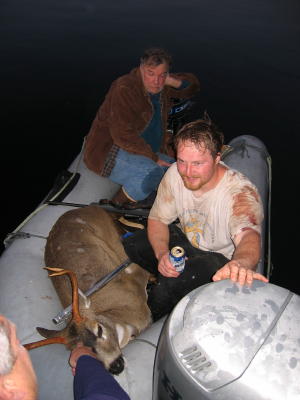 Kobi with his Sitka Blacktail Deer.
Next Page "Time to deal with the state"