August 14, 2005 Sunday - Day 2
Morning came early, no bears visited during the night. We were up around 8:00AM for an 8:30 departure. We headed straight for the Nagahut Rocks and anchored. When the anchor hung, we had a full 3 knots of current running under the boat. It was making all of us feel a little queasy. I caught only one fish at this location. The bite was dead here. I found a place called Dora Reef on the chart and we decided to head the additional two miles off shore to the new location. Wow, what a difference, the bite was HOT! The fish kept coming up as 20 lbers, it didn't matter what I dropped, they tore up salmon heads, picking off every piece of meat on the head. My crew was weak (late night) and finally we started keeping the 20 lbers until we had a limit of them. Headed back, we saw a small pod of killer whales, cows and calves and got some great video and photos.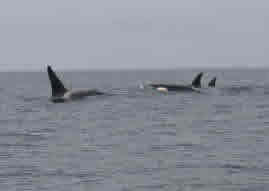 We cruised back toward camp. On the coast of Elizabeth Island we saw salmon jumping, so we started trolling and as we trolled, I gutted all the halibut. Trolling was kind of slow, but we did pick up a nice black bass and an ugly pink salmon. We kept the bass. Back in camp Jeff and I went hiking to the other side of the spit where the sawmill had been. All the sawmill's buildings had collapsed, there were still piles of huge logs everywhere waiting to be cut and metal debris scattered about the beach. Jeff and I continued into the alder and stumbled on another old collapsed cabin. We worked our way into another set of dilapidated buildings up on the hill side, all very strange.
After icing down the halibut we went trolling in our bay, skunked, we finally gave up and went into a little side lagoon. The pinks were packed in there by the thousands, right to the mouth of the creek. We went back to camp and dropped off Shanna to start on dinner.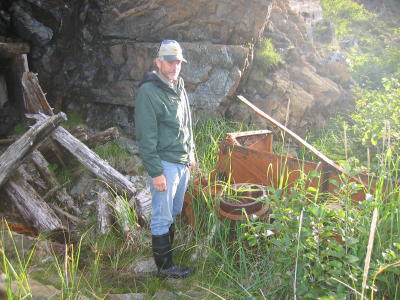 Jeff and I went on to check out more history in the bay at the chrome mine. We actually found an old mine shaft, got a flashlight and headed in until we found the first collapse area about 100 feet in. The mine shaft was in excellent shape; the timbers didn't look more than 10 years old, even though the mine was used last in the 1920's.