We started the day off by calling out the fuel dock attendant. We had been told in advance that there was a $20 call out fee for fueling outside of their VERY limited normal fueling hours. He lived just down the boardwalk about 10 minutes and our wait was short. We parked next to a small float and Jeff climbed the steep ladder to monitor the pumps. We wanted to carefully calculate fuel consumption as it's not readily available and it will be days before we can get any more. We filled every tank and container and headed out for Mirror Harbor.
We stopped along the way and fished a large rock. John immediately caught a black bass and we knew what we were having for dinner. After a few minutes we had all we needed and continued on our way.
At the entrance to Mirror Harbor we all knew our places, John would serve as captain, Shanna as bow watch and Jeff would read all of the navigational tips from the "Exploring Southeast Alaska (Douglas' book). This would not be a typical entry into a safe port, it came with lots of kelp and precarious placed rocks to snake around and between. We were all on our toes and our arrival into Mirror Harbor went off without a hitch!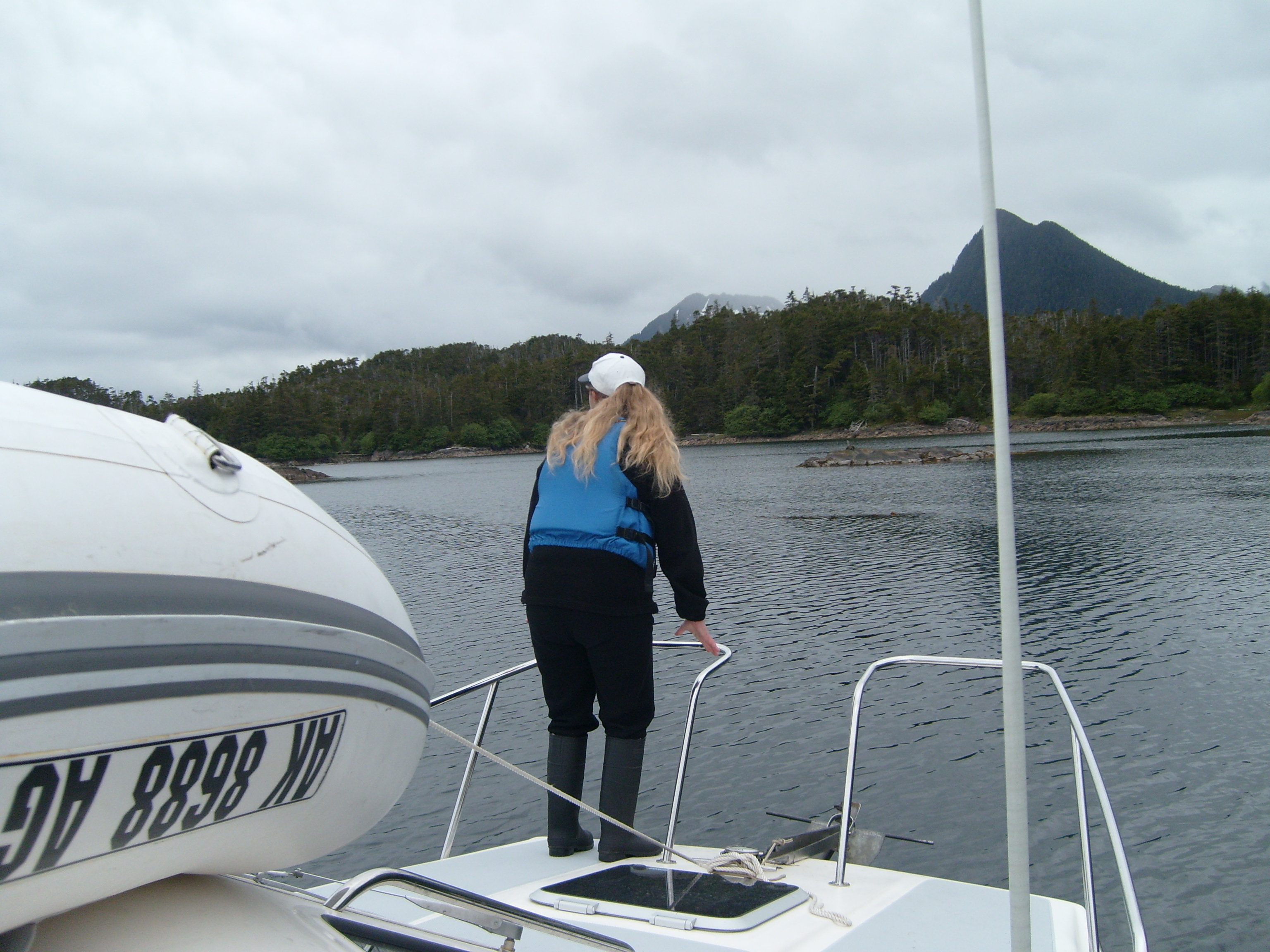 After anchoring we launched the dinghy and made it ashore where we headed up what was supposed to be a trail of ½ mile to White Sulfur Springs. Just in case we encountered any bears we all had a weapon, John had the 12 gauge shotgun, Shanna a can of bear spray, Jeff a can of bear spray and a flare gun. The hike down the trail was not without event. During the last few days Shanna had been reading stories from "Bear Tales" which contains scores of documented stories of how people have been mauled by bears in Alaska, many of them on the islands we were visiting. These horror stories had us all on edge as we were now in prime brown bear territory. Needless to say when we headed down that trail we were "Loaded for Bear". No bear had a chance with such a well armed crew! It didn't take long before large piles of bear scat were seen on the trail, some looking very fresh. The trail had many slippery areas and our bad moment came when Jeff dropped his can of bear spray which fell directly on the unguarded trigger. Jeff had removed the safety from the bear spray for an even faster response. A large swish was heard accompanied by the accidental release of bear "tear gas". Shanna got a whiff and commenced to coughing. John caught a bit of the pepper spray too and coughed some. After a few minutes Shanna caught her breath and we continued down the trail. John asked Jeff "You don't have the trigger cocked on the flare gun do you?. Jeff replied "No" I just don't want to be the reason we get eaten it one comes charging us.