During the course of taking photos there were several bald eagles who sat patiently on the dock waiting for someone to drop a scrap. We found ourselves intrigued at just how tame these magnificent birds were.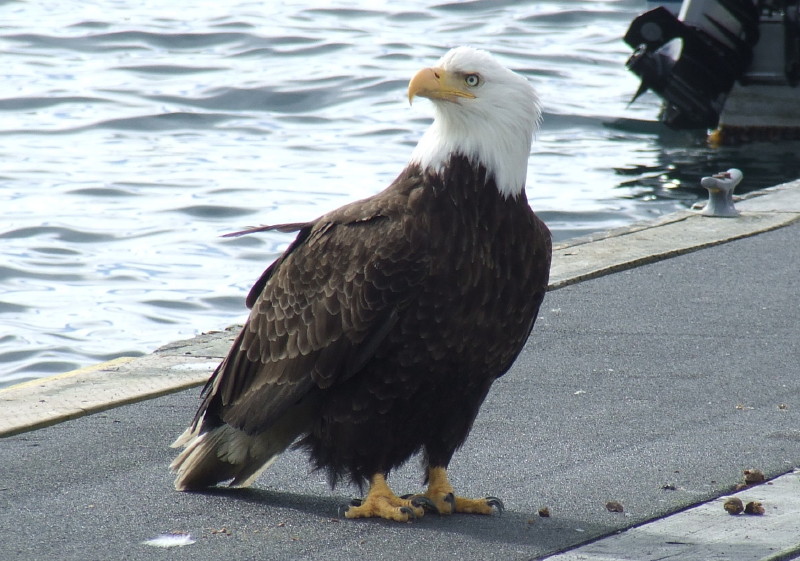 After the photos were complete a deckhand from the same local charter fisherman's boat offered to fillet the fish for us. What a welcome invitation! None of us were in the mood to clean this fish so we hurriedly took him up on his offer In less than 5 minutes he'd perfectly filleted the fish including it's cheeks. We tried to tip him and he said no thanks, he was glad to do it. They also placed our halibut's carcass with their fish remains so that it could be taken and dumped offshore. Sitka has rules that all carcasses must be dumped ½ mile outside the breakwaters. These fellows gave us a great first impression of the people of Sitka. These guys went out of their way to help us and they really didn't have to bother, as chances are they'd never see us again anyway.
After the fish was cleaned, we tied up the boat and offloaded the fillets to the fish packing house worker who was waiting dockside. The worker also handed over the small electric motor which we needed to make the Wallas stove operational and resupplied us with ice for our coolers.
We were later met by the harbor master who gave us a brief overview of the marina layout and facilities. After quizzing him on local restaurant options we decided the back deck of the boat needed a major cleaning. Ice chests and gear were removed and the cleaning commenced. After that task was complete,, it not only looked better, but it smelled better too.
With the chores complete we walked into town and had dinner at one of the recommended restaurants Van Winkle and Sons. On our way back to the dock we found the local fisherman's hangout "Pioneer Bar". We stopped in for one last drink and to see how the locals relax. You didn't have to wonder what any of these people did for a living. This is a fishing town!
The walls were completely covered with old and new photos of all types of boats some in precarious positions which included some who had sunk, run a ground, etc.
After finishing our drink we headed back to the boat where the night's entertainment would be a slide show of our recent photos.
Tied up to the dock in Sitka Harbor.
N 57 03.364 W 135 33.322
Trip odometer 473.3
Miles traveled Wednesday & today 108