Anchored last night in Kimshan Cove and awoke to sunny skies. We had pancakes for breakfast and headed on to our next destination, Klag Bay, Chichagof Village site.
As we prepared to go ashore we heard the sound of an airplane engine, a bi-plane flying very fast. It made a large circle over head and then headed off in the distance where it turned around and flew back at us. As it approached us it went straight up an made a complete inside loop. What a great show! We were still talking about that last stunt when we heard the sound of another airplane engine, where had we parked, at an airport? This was a float plane and it too circled. What did he have in store? This plane also circled but unlike the bi-plane he landed in the cove next to us. John and Jeff rushed to properly update their licenses that hadn't been marked with the yelloweye rockfish that were on board just in case it was some type of enforcement. John yelled "Are you looking for us" the guy said he was picking up some people who were kayaking, had we seen them? We said yes, they were over in another bay. He promptly tool off in search for his passengers. Alaska is a huge place and I guess he was very close for Alaska standards. We looked "explored" the ruins of an old abandoned gold and silver mining operation. Lots of bear scat under the alder bushes and bear paw prints in the sand. While walking the beach John looked up at the Tomcat and didn't like the positioning. It had drifted off the original anchor point so we hurried back to make corrections. The anchor had pulled a significant distance and wrapped up in our crab pot buoy line we had put out. Next stop was Anna lake and Sister lake. Shanna did bow watch as we maneuvered through a rocky area with very strong currents transiting from Anna to Sister Lake. The Douglas Book had recommended this passage at slack tide, but we had no problems transiting on an outgoing tide. We always have both motors running for the hairier passages such as this one.

We exited Anna and Sister Lake and continued to Khaz Bay, Double Cove

Once anchored, John & Jeff took a dingy ride around the cove. As they approached the shore a brown bear stepped out of the woods and began walking down the shoreline approximately 25 yards from them. The bear seemed unconcerned as it made it's way around the shoreline.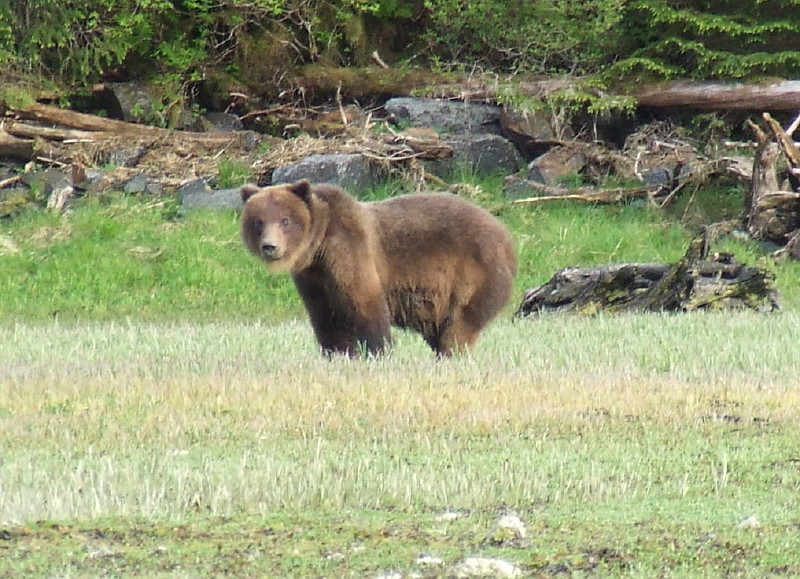 The bear disappeared into the woods and John & Jeff continued their tour of the cove where they promptly ran out of gas and had to paddle back.
Dinner was pan fried Yellow-eye with rice pilaf followed by a couple of episodes of South Park which was a first for Jeff.
Anchored in Double Cove, Khaz Bay
N 57 35.960 W 136 03.639
Trip odometer 365.3
Miles traveled today 37.5