June 27, 2008 ~ Friday
Up 6 hours later at 10:30AM. John was first into the lodge and met up with Greg Kunz and his wife Anita, friends who were driving from DesMoines, IA to Sterling. After saying hi to everyone, Greg took us out to check out his brother Mike's pontoon boat. We had to take it for a ride, so that we could check it out properly. It rode real well and is set up wonderfully.
We were underway again by 2:00PM headed down the awful road. We were soon approaching one of the worst parts of the road the Caribou Creek descent and hairpin turn. Just as we were slowing to make the turn and climb up hill a guy on a crotch rocket motorcycle tried to pass us in a no passing lane. He made it back in front of us, but was going too fast and couldn't make the turn. Right in front of us he bashed into the start of the guard rail. He went flying into the air with his motorcycle.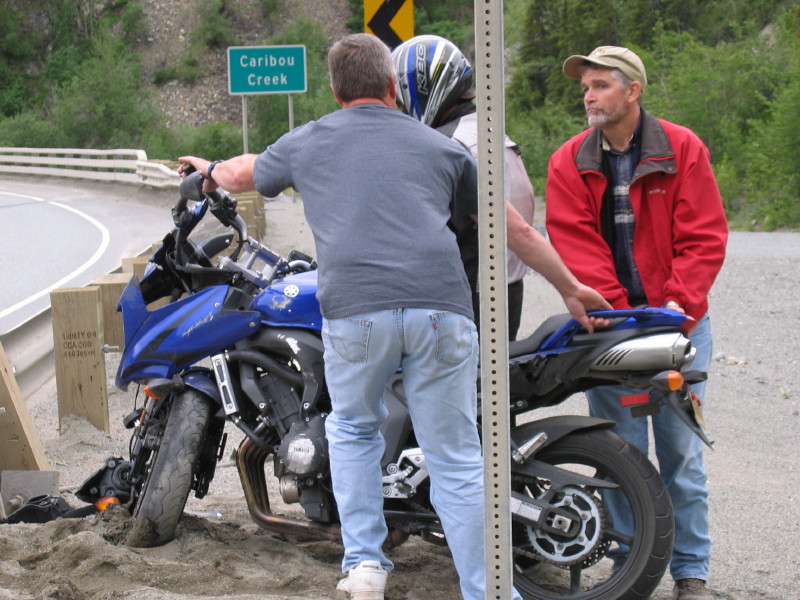 John stopped the truck and boat prior to the guard rail and went to try to put the pieces of this guy back together. Amazingly he stood up and walked toward his motorcycle. It was ruined, totaled out. The front wheel was bashed in and wouldn't even roll. It had fluid leaking from the front forks and from the brake system. He wasn't going anywhere, although you could tell he thought he was going to ride off. One of his shoes was still stuck in the frame of the cycle. We just couldn't believe there were no apparent injuries at all. He was wearing a full face helmet and leather gloves and jacket that undoubtedly helped. We asked him if we could call anyone for him or help him in any way and he said no. He pulled out a cell phone and called someone in Anchorage to come get him, over 4 hours away. We helped him upright his cycle so that he could wait. It appeared as if he had luckily landed in some soft sand. We finally left him and once on our way decided to call 911 to have him get checked out. He was just kind of strange, he appeared to be a big Samoan guy, but he never even took off his helmet. In Anchorage we stopped at Fred Meyer's to buy clothes for John, he had to leave with Shanna and Jeff this evening also, but all his clothes for being able to sit in the jumpseat were left in Sterling. Next we were on to Jimmie Johnson's house to drop off the boat in their front yard. Jimmie and Carol were both there and seemed very happy to see us and show Jeff their house. We talked and Jimmie shared some Magaritas with Shanna and Jeff, then it was off to the Chinese buffet and sushi house before going to the Anchorage airport and all jumping on the non-stop flight for Houston.
After View
John asked during the trip what we had forgotten to bring or needed and no one had a single item they could think of. I (John) think we didn't need all the 5 gallon gas cans we juggled constantly, we should have just stuck with the drum, that we actually didn't need either. The drum of fuel was like an insurance policy though on some of the longer sections. All in all an incredible trip.

THE END